The purpose of the control systems is to provide the Company's management with an objective view of:
- the Company's current state and prospects in terms of set goals;
- risk exposure;
- reliability of all types of reporting;
- compliance with laws and internal regulations.
The principles of the control system were determined by the Board of Directors and incorporated into TMK's corporate policies and internal documents (https://www.tmkgroup.com/Documents).
Control procedures are integrated into the business processes of TMK units and are run on a continuous basis by governing bodies at all levels and by employees in their day-to-day work. Monitoring of the control system is done by the Board of Directors, including the Audit Committee.
Internal Audit
The reliability and effectiveness of TMK Group's internal controls, risk management and corporate governance are assessed by the Internal Audit Service (IAS).
The purpose of the Internal Audit is to assist TMK's Board of Directors/Audit Committee and executive bodies in improving the management of TMK Group by objectively assessing the performance of internal controls, risk management and corporate governance
The functioning of the Internal Audit is regulated by the TMK Group Policy on internal audit and the Regulation on the Internal Audit Service of PAO TMK.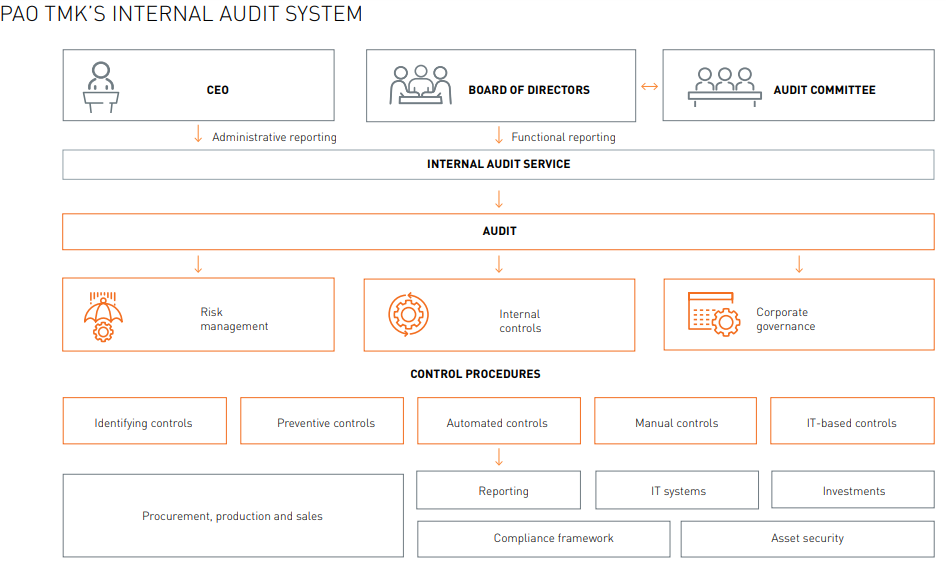 External Auditor
Ernst & Young LLC, a member of the Sodruzhestvo Association Self-Regulatory Organization of Auditors (SRO AAS), was approved as an external independent auditor of separate and consolidated accounting (financial) statements of PJSC TMK for 2019 and interim periods of 2019.
LLC Ernst & Young
Address: 77 Sadovnicheskaya Embankment, Bld. 1, Moscow, 115035, Russian Federation
Tel: +7 495 755 9700
Email: Moscow@ru.ey.com

LLC Ernst & Young is a member of the Self-Regulatory Organization of Auditors Association Sodruzhestvo